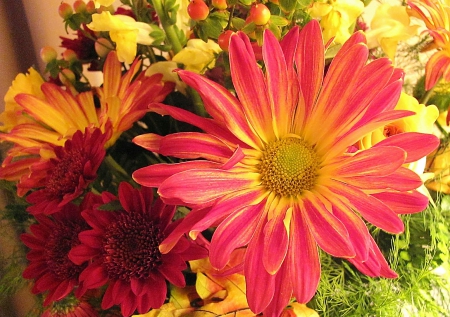 Due to the dry weather in autumn, the management of autumn flowers and plants ought to be timely adjusted according to weather changes. Attention should always be paid to such factors as temperature difference, moisture and pruning, etc. with timely adjustment and treatment, which is conducive to the good growth of autumn flowers and plants.
(1) The most important aspect in the maintenance management of autumn flowers and plants lies in the control over water and fertilizer. From earlier October a right amount of water and fertilizer should be kept in order to avoid root rot caused by excessive water and over growth of branches and leaves caused by excessive fertilizer, so as not to affect wintering. Such flowers and plants as cyclamen, kaffir lily, Christmas cactus and azalea, etc., blossoming before and after the Spring Festival, will have passed dormancy stage and begin to enter the growth season, so fertilization and water management should be reinforced from autumn to spring until they blossom. A right amount of phosphate fertilizer and potash fertilizer can be increased to help the flower bud form.
(2) For different flowers and plants, due to their different needs for sunlight, attention should be paid to the influence of sunlight on them every day. For example, jasmine, hibiscus rosa-sinensis and murraya paniculata, etc. are summer flowers and trees enjoying sunlight , so they should be put in the place where there is enough sunlight, to promote the maturity of the current-year branches so that they should overwinter in safety. Such pot flower as azalea, kaffir lily, cyclamen, poinsettia and Christmas cactus, etc., which will blossom around the Spring Festival, should also be put in the place where there is enough sunlight to receive full sun, or there will be delayed blossom or no blossom. In general, foliage plants are relatively shade-tolerant, so some sunlight can be supplied for them properly.
(3) Different flowers and plants can be moved indoors according to their varieties. The warmth-tolerant flowers and trees like hibiscus rosa-sinensis, poinsettia, begonia, cyclamen, jasmine, colens and monstera ceriman should be moved indoors at 10°C; chlorophytum comosum, asparagus setaceus, pleione, schefflera octophylla and rubber tree, etc. should also be moved indoors at 5°C. It's good for most flowers and trees to be moved indoors before Frost's Descent.
(4) During the breeding period in autumn when the temperature is low, it's just the good time for some biennial flowers and plants like pansy, dianthus chinensis, cineraria and hollyhock, etc. to be seeded. After planting, don't forget to spray water to keep the soil moist. There are also some woody flowers and plants suitable for cuttings in autumn, such as monthly rose, geranium and jasmine and on, whose rate of survival will be high for cuttings in autumn. For the perennial flowers and plants like peony and paeonia lactiflora, ect., which grow closely and need plant division, should be treated with plant division propagation in time. For the flowers blossoming around the Spring Festival, such as hyacinth, tulip and barbadoslily, etc., it behooves to put them in pots timely.
(5) Frequent pruning is an important aspect in the management of autumn flowers and plants. Most flowers and plants like jasmine, crape myrtle and pomegranate, etc. can be pruned and shaped in autumn, in which case, nutrient consumption of the plants can be reduced, so as to urge pot plants to have more blooms next year. When pruning, it behooves to eliminate the diseased wood, dead wood, over dense wood and elongated shoot, to lay a good foundation for the pot flowers to overwinter.
Learn more:
How to care for flowers