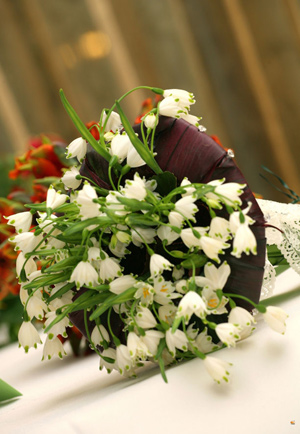 Flowers have been given new and alternative meanings to ensure their meanings still have relevance for today's bridesand grooms.
The Flowers & Plants Association felt it was time to give the language a bit of a makeover to bring a new, updated meaning to flowers, that suits both florists' and customers' needs better.
The tradition started in the time of Queen Victoria, as a way for her subjects to send secret messages through gifts of flowers when it was deemed unseemly to openly express emotions. The meanings were written down in special dictionaries, and the language of flowers was born. Beech was used to represent ancient knowledge, blossom to express good fortune, and lilac to symbolise first love.
The new and alternative meanings are based on the flower's folklore, botanical or common name, visual appearance or the sound of the name, to create a language of flowers for the 21st century.
Here's just a taster of the association's new flowers and plants meanings and what they can say to today's modern lovers and friends.
Floriography – 21st century style
Alstroemeria – You're so pretty
Amaranthus – Thank you for mending my broken heart
Ammi – You're my queen
Aster – You're a star
Begonia (flowering) – I love your smile
Begonia Rex – Thanks for your patience
Capsicum – You're hot
Carnation – Your beauty is timeless
Chrysanthemum – You bring me laughter and happiness
Cornflower – You're so funny
Cosmos – I love you more than chocolate
Craspedia – You light up my world
Dahlia – You're great
Echeveria – I'm sticking around
Eucharis – I'll love you forever
Ficus – I want to grow old with you
Gerbera – Cheer up
Gladioli – You're so glamorous
Gloriosa – You're my hero
Heliconia – Hello, gorgeous!
Hyacinth – You're a lady
Jasmine – Fancy a cuppa?
Kalanchoe – You're the Queen bee
Lathyrus – Sweetie pie
Lily – You're so sexy
Lisianthus – Thinking of you
Muscari – With love
Nigella – I love your curves
Passionflower – I want to seduce you
Peony – You're girly and great
Poppy – I can't get enough of you
Protea – I love your muscles
Ranunculus – I'll run to you
Red rose – I love you
Solidago/Solidaster – I love your smile
Solomon's Seal – Sealed with a kiss
Tulip – You're priceless
Vanda – You've got va va voom!
White rose – You're my soul mate
Zantedeschia – I'm impressed
Zinnia – You're crazy but cute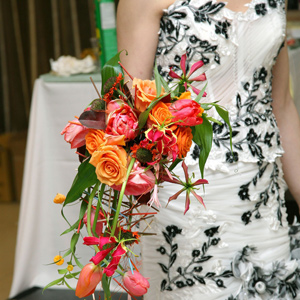 There are hundreds of flowers that hold special meanings … these are some of our favourites…
Amaryllis (Hippeastrum) – splendid beauty, pride
Arum lily, calla (Zantedeschia) – magnificent beauty
Bluebell (Scilla) – constancy, forgive and forget
Campanula – white, gratitude
Carnation – red – "alas for my poor heart"; striped – refusal; yellow – disdain; pink – woman's love
Cockscomb celosia – affectation, individuality
Chrysanthemum – red – "I love you"; yellow – slighted love; white – truth
Daffodil – regard, chivalry
Dahlia – good taste
Forget-me-not (Myosotis) – true love, "the key to my heart"
Freesia – friendship
Garden Pink (Dianthus) – pure love
Gladiolus – strength of character
Hyacinth – blue – constancy; white – unobtrusive loveliness
Iris – yellow – flame of love
Lilac (Syringa) – purple – first emotions of love; white – youthful innocence
Longi Lily (Lilium longiflorum) – pure and modest
Lily of the valley (Convallaria) – return of happiness
Love lies bleeding (Amaranthus) – hopeless, not heartless
Mimosa (Acacia) – sensitivity, secret love
Narcissus – self esteem, female ambition
Orange blossom – bridal festivities, virginity,
Orchid – longevity, elegance
Peony – bashfulness
Rose – symbolises love & good fortune; white – truth; white with pink blush – "only for thee"; large bright pink –"meet me by moonlight"; single stem – simplicity; red & white together – unity; small yellow – "thou art all thatis lovely"; rosebuds – pure and lovely; red – eternal love; crown of blooms – reward of virtue
Rudbeckia – justice
Snowdrop – hope
Solidago – encouragement
Star of Bethlehem (Ornithogalum) – purity
Stock (Matthiola) – lasting beauty
Sunflower dwarf – adulation
Sweet pea – departure, delicate pleasures
Tuberose – dangerous pleasure
Tulip – red – declaration of love; striped – beautiful eyes
Veronica – fidelity
Violet – faithfulness, modesty